Leave the Dirty Work to a Top Quality Grill Cleaner in Tampa Bay
Bay Area Grill Cleaner specializes in top-quality grill cleaning and repair services for residential and commercial grill owners in the Tampa Bay area. It is our goal to provide the best customer support available and to get your grills back in working condition.
Our team will assess the condition of your grill and develop an action plan to ensure that your entire cooking grill is clean and free of any stains. We only use premium eco-friendly products for you and your family's safety.  Bay Area Grill Cleaner will ensure that your grill is spotless and in great condition after we finish our cleaning process.
Bay Area Grill Cleaner Has the Experience to Make Your Grill to Look New Again
Choosing Bay Area Grill Cleaner is an excellent choice for any grill owner. We are one of the top grill cleaners in the Tampa Bay area due to our years of experience and hands-on working environment. We've successfully restored both residential and commercial grills to like new condition for a wide variety of clients. Our professional cleaning and repair services are designed to lengthen the lifespan of your grill and ensure that it is working at an optimal level.
We are the only recommended repair professionals for Weber Grills in Tampa Bay. We are also certified Lynx Grill repair specialists.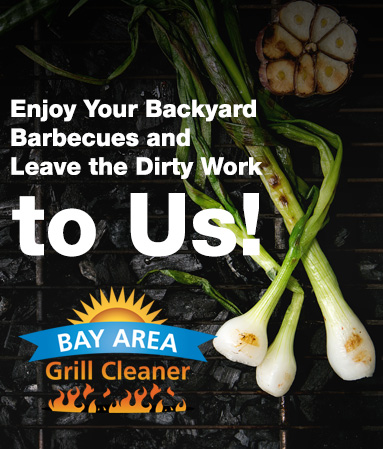 Flexible Hours to Meet Your Grill Cleaning Needs
We offer highly flexible hours for grill cleaning and repairs. We are available any day of the week throughout the entire year. We can get your grills up and running so you can host your next event without worrying about a rundown or malfunctioning grill.
Dedicated to Full Grill Cleaner Services for Our Clients
Our dedication to clients and our work has allowed us to develop a great relationship with the residents of the Tampa Bay area. We stand by our work and by our process, no matter how simple or complex the job may be.
Residential and Commercial Grill Cleaning and Grill Repair
A clean cooking grill is essential, whether you are cooking out with friends and family or you own a restaurant. Contact Bay Area Grill Cleaner today at (727) 490-8703  to schedule an appointment or if you wish to learn more about our residential and commercial grill cleaning and grill repair. We also encourage you to look over our Bay Area Grill Cleaner Gallery to see examples of our work. Give us a call as we are always happy to answer any of your questions and prove why we are one of the leading grill cleaning companies in Tampa Bay.
Why Choose Us


LOCAL AND PROFESSIONAL (727) 490-8703
The BBQ Cleaner service is now available here locally in Pinellas County and the surrounding Tampa Bay area. Let the Bay Area Grill Cleaner safely renew your dirty BBQ with a deep hygienic clean that will leave your BBQ grill sparkling.
Our BBQ cleaning system will remove all visible traces of grease and fat PLUS we'll get into all those awkward areas of the BBQ that you don't see every day! We'll only be using Premium Grade, biodegradable products in our BBQ grill cleaning service to achieve the highest possible standards.



FLEXIBLE HOURS
We commit ourselves to fit around your busy schedule. We are available 7 days a week year round. Contact us to get a quote and set up an appointment.


FULL CLEANING SERVICE
No job is too big or too small for us. We specialize in cleaning all aspects of the grill including, but not limited to, grill racks, flavorizer bars, heat plates, igniters, pull-out trays, rotisserie racks, and drip pans.
Who Are We?
Bay Area Grill Cleaner provides professional residential grill cleaning and commercial grill cleaning services. Cleaning your own grill can be a time consuming, frustrating, and dirty job. This unique cleaning process removes harmful particles, and carcinogens, protecting you and your valuable investment. Have a question? Contact us and we'll be happy to help!